Prof.ssa Cristina Gena
Associate Professor
SSD: INF/01 - informatica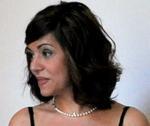 Contacts
011.6706827
011.751603
Dipartimento di Informatica, c.so Svizzera 185, Torino
At
Computer Science Department
Dipartimento di Informatica
Corsi di Studio del Dipartimento di Culture, Politica e Società
PhD in Computer Science
Curriculum vitae
Curriculum Vitae (0.7 MB)
Research topics
Settore scientifico disciplinare di attività: INF_01 - INFORMATICA.
Tutor per il Dottorato in Informatica.
***

The research work of Cristina Gena mainly focused on these aspects:
Human Computer Interaction, HCI; Interaction Design, User Experience;
Multimodal Interaction (Mobile, Natural, Gestural Interaction, BCI, gaze-based interaction, etc.);
Child-computer interaction and interaction design for children
Human Robot Interaction
Information visualization
Intelligent User Interfaces, their Design and Evaluation;
User Modeling, Adaptive, and Personalized Systems and their Empirical Evaluation;
Research groups
Activities in agenda
Academic bodies
Office hours
Il mercoledì, dalle 15,30 alle 17,30 presso il Dipartimento di Informatica. Mandare sempre una email per avvertire la docente.